ISOPROPYL ALCOHOL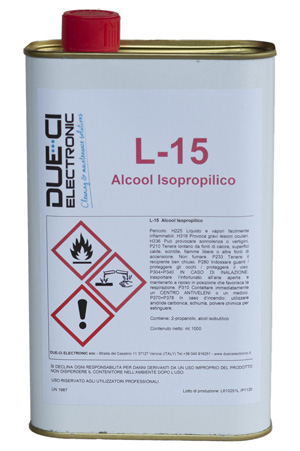 Deep detergent and cleaner for the all surfaces: plastic-housings of computers, printers, screens, plotters and photocopier drums and any other office machine. It completely evaporates, leaving no residue.
Suitable for cleaning the focusing lenses of laser systems, optical glasses of telescopes, photographic equipment and optical fibres. Eliminates static charges from audio and video heads, improving the efficiency of audio and video readers. Can be used for cleaning optical readers of CD and DVD, PC-boards, electromechanical tuners, delicate audio and VCR components, glassed reading surfaces of photocopiers and scanners.
Electric and electronic components can be washed with this liquid, thanks to its good degreasing properties. Maintenance cleaner for reflow ovens. Good solvent that eliminates flux residues from PC-boards (in this case it's suggested the use of a bristle). Removes thermal paste from the CPU.
Do not use on live circuits or near any source of ignition. Do not switch on the circuit before the product has completely evaporated.
Diluted in demineralized water, it can be used as an ultrasonic cleaning liquid.
DEEP DETERGENT FOR SURFACES
CONTAINS 97% ISOPROPYL ALCOHOL
SAFE FOR MOST PLASTICS
COMPLETELY EVAPORATES, WITHOUT LEAVING ANY RESIDUE
CHLORINATED SOLVENTS FREE
<PREV

NEXT>