INSULATING LACQUER - Conformal Coating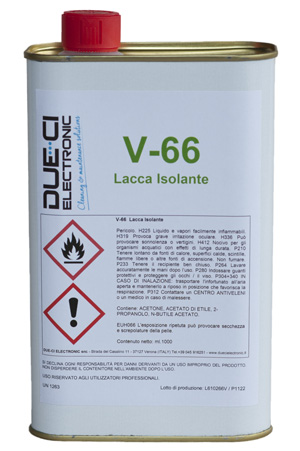 Insulating lacquer with fast-drying characteristic.
Clear, tough and transparent coating will not fragment, chip or crack. V-66 offers a very high dielectric strength. Designed to provide coils, solenoids, EATs, transformers, electronic components and PC-boards, with effective insulation against harsh environment and electrical shorts.
It prevents corona effect. Protects the treated parts from atmospheric agents, humidity and saltiness (in marine zones). It adheres to and spreads over all surfaces. Can be soldered through.
DO NOT APPLY WHEN ENVIRONMENT RELATIVE HUMIDITY EXCEEDS 80%, IN ORDER TO AVOID POSSIBLE FORMATION OF WHITISH TRACKS.
Technical characteristics:
| | |
| --- | --- |
| Colour: | colourless and transparent |
| Drying time: | 10 minutes on copper |
| Corrosive effects on Copper, Cadmium and Zinc plate: | none - doesn't contain phenols |
| Isocyanates content: | none – no highly toxic gasses produced during soldering |
| Dielectric strength (dry): | 40000 Volt/mm |
| Dielectric strength (wet): | 24000 Volt/mm after 24h in water |
| Resistance to water and chemical agents: | excellent |
| Resistance to temperature: | between -30°C to +130°C. |
HIGH INSULATING POWER
RESISTS TO ATMOSPHERIC AGENTS
CAN BE SOLDERED THROUGH
TRANSPARENT
RoHs COMPLIANT
<PREV