COMPRESSED AIR FLOW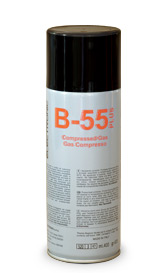 B-55 Low GWP is composed by an
ecological and 100% non-flammable gas, with low Global Warming Potential.
It's compatible with any kind of material.
Useful to eliminate dust and moisture from any mechanism or part that does not allow the use of solvents.
It's particularly suitable to remove dirt from precision instruments, laboratory equipment, digital camera sensors (CCD and CMOS), optical fibers, optical devices and cameras.
The compressed air can reach the most hidden areas, thanks to the flexible thin-cane supplied.
The product is extremely pure: it does not leave any residue or condensation.
Before the filling, each B-55 Low GWP bottle is completely drained of every trace of air and moisture through the creation of the vacuum.
Thanks to its non-flammability, it's possible to work on live circuits and function.
The high pressure makes it very effective in cleaning dust in inner and outer parts of printers, magnetic heads, computer keyboards and more.
Ideal for a periodic removing of dust and moisture form the computer cabinets.
LOW GLOBAL WARMING POTENTIAL (GWP)
100% NON FLAMMABLE
OZONE SAFE
CFC, HCFC AND HFC FREE
SAFE FOR ALL MATERIALS
DOESN'T LEAVE CONDENSATION
100% ACTIVE PRODUCT

NEXT>