LABEL REMOVER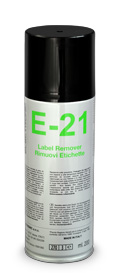 An indispensable help that rapidly removes every kind of paper-labels from the all materials, without damaging the surfaces.
E-21 deeply penetrates through the porosity of the paper and (in a few minutes) neutralizes the adhesive power of the glue.
If the label is plastic-coated, spray between it and the surface, until the complete removal. Thanks to its extreme effectiveness, it's an irreplaceable and quick help.
The composition of the products has been studied to be compatible with almost all the materials.
OZONE SAFE
CFC AND HCFC FREE
CHLORINATED SOLVENTS FREE
SAFE FOR MOST PLASTICS
FAST AND EFFECTIVE ON EVERY LABEL GLUES
DOESN'T LEAVE ANY RESIDUE
100% ACTIVE PRODUCT
FILLED WITH NON FLAMMABLE GAS
DOUBLE-USE DISPENSER: MICROMIST + THIN CANE
CAN BE SPRAYED UPSIDE DOWN
<PREV

NEXT>