TECHNICAL LUBRICANT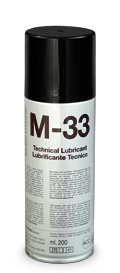 An all-round low viscosity and colourless lubricant, excellent for mechanical applications. Reduces friction, cleans, lubricates and penetrates, loosening rust and corrosion oxidation formed on nuts, bolts...etc.
Eliminates squeaking from windows and doors. Prevents the freezing of the locks. Can be successfully employed to restore micro-motors, gears, connectors, rotating and linear contacts.
Facilitates the electrical contact stopping leakages of current and preventing eventual short circuits. Doesn't contain silicone. Safe for most plastics.
OZONE SAFE
CFC AND HCFC FREE
CHLORINATED SOLVENTS FREE
SAFE FOR MOST PLASTICS
HIGH DETERGENT PROPERTIES
HYDRO-REPELLANT AND ANTI-CORROSIVE
HIGHLY PROTECTIVE AND LUBRICATING
100% ACTIVE PRODUCT
FILLED WITH NON FLAMMABLE GAS
DOUBLE-USE DISPENSER: MICROMIST + THIN CANE
CAN BE SPRAYED UPSIDE DOWN
<PREV

NEXT>