SCREEN CLEANER

Info to the consumer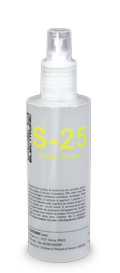 Specific detergent for the cleaning of high contrast screens, touch screens, LCD monitors, TFT, Plasma, mobile phones, smartphones, tablets, GPS, mp3 readers, PDA displays and camera lenses.

Compatible with anti-glare technologies and treatments. Antistatic: delays dust formation.

We advise you to apply the product on a dry cloth and then spread it on the surface to be treated.

Make sure the liquid does not come into contact with the internal circuits.

We recommend you always follow the manufacturer's instructions.

Excellent also for glass, desks,metal tables, formica, plastic, PVC, plexiglas, etc.

Does not leave marks.
<PREV

NEXT>