FREEZING SPRAY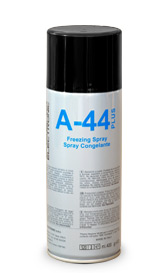 Low Global Warming Potential and non-flammable
aerosol, specially developed to locate short circuits and failures in electronic components and to test the trace continuity in PC-boards, or to cool the entire circuit.
Provide heat sink protection for heat sensitive components during desoldering and soldering.
Quickly cools down temperature to -50°C.
Dielectric and non flammable.
Safe for use on most materials.
Evaporates totally, without leaving any residue.
LOW GLOBAL WARMING POTENTIAL (GWP)
100% NON FLAMMABLE
OZONE SAFE
CFC, HCFC AND HFC FREE
SAFE FOR MOST MATERIALS
100% ACTIVE PRODUCT

NEXT>