FLUX REMOVER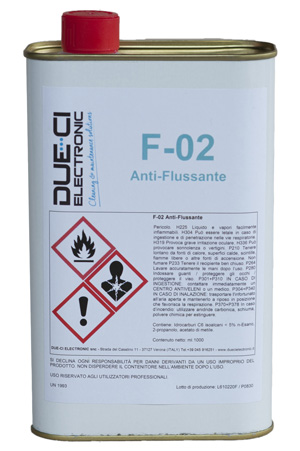 A very useful product that eliminates the toughest residues of flux remaining after the stain-soldering on the PC boards.
These drosses are often source of oxidising processes inside the conductive part of the circuit: F-02 prevents the oxidising, assuring the correct working of the equipment.
It's a very effective degreaser and cleaner for PC boards and every kind of electric or electronic component: it completely evaporates leaving no deposits.
Excellent to prepare every printed circuit board to be covered by the Due-Ci' V-66 insulating coating. Safe for most plastics.
CHLORINATED SOLVENTS FREE
SAFE FOR MOST PLASTICS
DOESN'T LEAVE ANY RESIDUE
QUICK EVAPORATING RATE
<PREV

NEXT>