ISOPROPYL ALCOHOL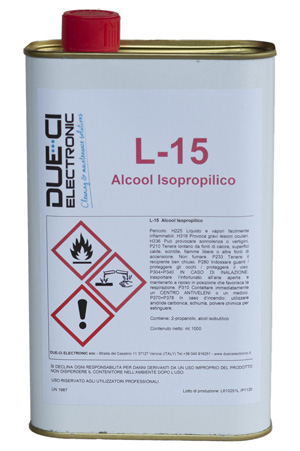 An effective detergent for the all structures and plastic-housings of computers, printers, screens, plotter and photocopier drums and any other office machine.
It completely evaporates, leaving no residue: it's particularly suitable for cleaning glasses, lenses, optical fibers and instruments.
L-15 eliminates electrostatic charges from audio and video heads, improving the efficiency of audio and video readers. Can be used, with excellent result, for cleaning optical readers of CD and DVD, PC-boards, electromechanical tuners, delicate audio and VCR components, glassed reading surfaces of photocopiers and scanners.
Electric and electronic components can be washed with L-15, thanks to its good degreasing properties.
CHLORINATED SOLVENTS FREE
SAFE FOR MOST PLASTICS
DOESN'T LEAVE ANY RESIDUE
QUICK EVAPORATING RATE
<PREV

NEXT>