SPECIAL DRY CLEANER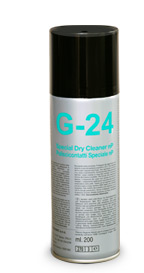 A special blend of solvents studied for cleaning precision instruments, optical fibers, electronic and electromechanical parts and delicate equipments.
Fast evaporation rate.
Safe for most plastics and materials.
High effectiveness in cleaning every sensitive part: removes greases, oils, dust and dirt leaving no residue and obtaining perfect dry surfaces.
Suitable for cleaning magnetic tape heads, potentiometers, sensitive components and PCBs.
HFC, CFC AND HCFC FREE
OZONE SAFE
CHLORINATED SOLVENTS FREE
SAFE FOR MOST PLASTICS
DOESN'T LEAVE ANY RESIDUE
QUICK EVAPORATING RATE
CAN BE SPRAYED UPSIDE DOWN
<PREV

NEXT>